Why are the delivery costs on your bottles so high?
Why don't you offer FREE shipping like Amazon?
These are questions we get asked often and are also cost areas we visit regularly to see how we can improve them.
The truth is that there is not a lot of profit in the Food & Drinks sector, despite what people might think.
If you look at the bottle below, drawn and coloured in by the Dafty Fae Crafty himself, you will see a breakdown of the costs.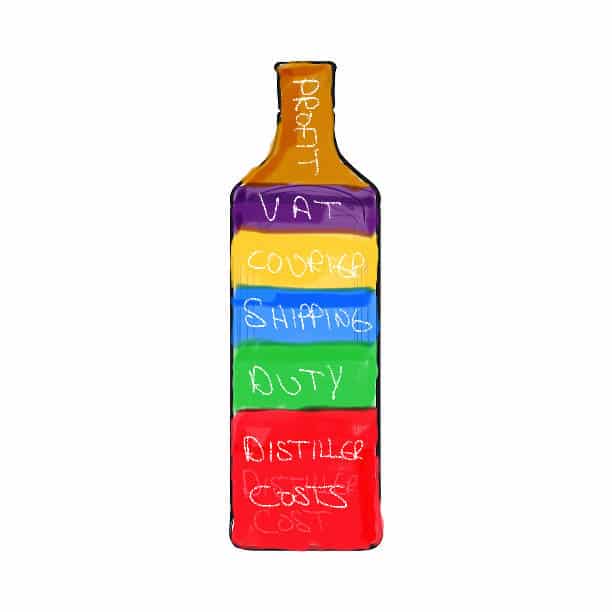 You can see that it's split into different categories of cost, with the last part being the Profit that is left.
Starting at the bottom of the bottle:
The cost from the Distiller who made it (sometimes they can lower/improve their production costs).
Duty charged by HM Revenue & Customs and this is based on the ABV of the spirit. So the higher the ABV, the more duty gets paid.
Shipping Costs for bringing the product either to the country if it's an import or to the Crafty Warehouse (importing is more costly as shipping costs have quadrupled in the last year).
Courier Costs for delivering it to your door. On top of the actual cost of of the delivery (which is not cheap) there is a fuel charge that can change from week to week (look at fuel costs these days), an HGV surcharge because of the shortage of drivers and a charge for making sure fragile items are handled well and not damaged.
As if that was not enough, as a VAT registered business we have to charge 20% VAT on top of all these costs and that money gets paid to HMRC. That's Duty and VAT they have had off of one bottle!
Taking all of these costs off the final selling prices seen on our website, leaves us a very small operating profit. From which we have to pay wages, rent, fuel costs, and many other business expenses.
The profit that is left has to cover the above overheads in order for us to stay in business and also so that we can re-invest in new products. Therefore, regretably, we have to pass the cost of delivery onto the customer.
But its not all bad news because this means we are using some of the top couriers in the country to make sure your purchase gets to you in one piece. Plus, all the couriers send tracking details so you know when your order is going to arrive and, if needed, you can re-arrange it for a convenient time.
Our aim is to make the process as smooth, quick and efficient as possible for all our Crafty customers.
If we had the sort of resources and deep pockets that Amazon have, then this would be an entirely different post and my surname would be Bezos.
However, we don't and are just a small family run business trying to make their way in a sea of competition and rising costs.
We hope this post has helped you understand a little bit of what goes on behind the scenes at Crafty HQ.
Thank you for your continued support, it means so much to us when customers place orders through our website.