Introduction
If you're a fan of sophisticated brandies that add body and richness to your drinks, then Seven Tails XO Brandy and Seven Tails Spiced Brandy should definitely be on your radar. Gaining popularity among brandy enthusiasts and connoisseurs alike, this unique brand crafted, unique elixir comprised of some of the finest French brandies is artfully blended to create a complex and satisfying taste experience that's perfect for sipping or mixing.
Seven Tails Brandy has gained recognition for its refined flavours and unique blend of brandies, and has even won awards for its exceptional taste.
In this blog post, we'll take a closer look at Seven Tails XO Brandy, exploring its flavour profile, production process, serving suggestions, and reviews. We'll dive deep into the tasting notes of this exceptional brandy, including rich berry fruit, dark chocolate, and toasted pecan, all backed up by a savoury mushroom broth. We'll also explore how Seven Tails XO Brandy is made, from the distillation process to its aging in port casks. Whether you're already a cognac fan or are looking to try something new, Seven Tails XO Brandy is definitely worth checking out.
The Seven Tails Spiced Brandy is a brand new addition to the world of spirits, being the first ever spiced brandy in the market. Released in December, it has already made a name for itself in the industry, being ranked number seven in the Spirits Business Magazine's list of the most innovative spirits of 2022. This unique blend of brandy and exotic spices creates a warm and inviting flavor profile, perfect for sipping on a chilly evening. With its innovative approach to the traditional brandy recipe, the Seven Tails Spiced is definitely worth a try for anyone looking to expand their palate and try something new.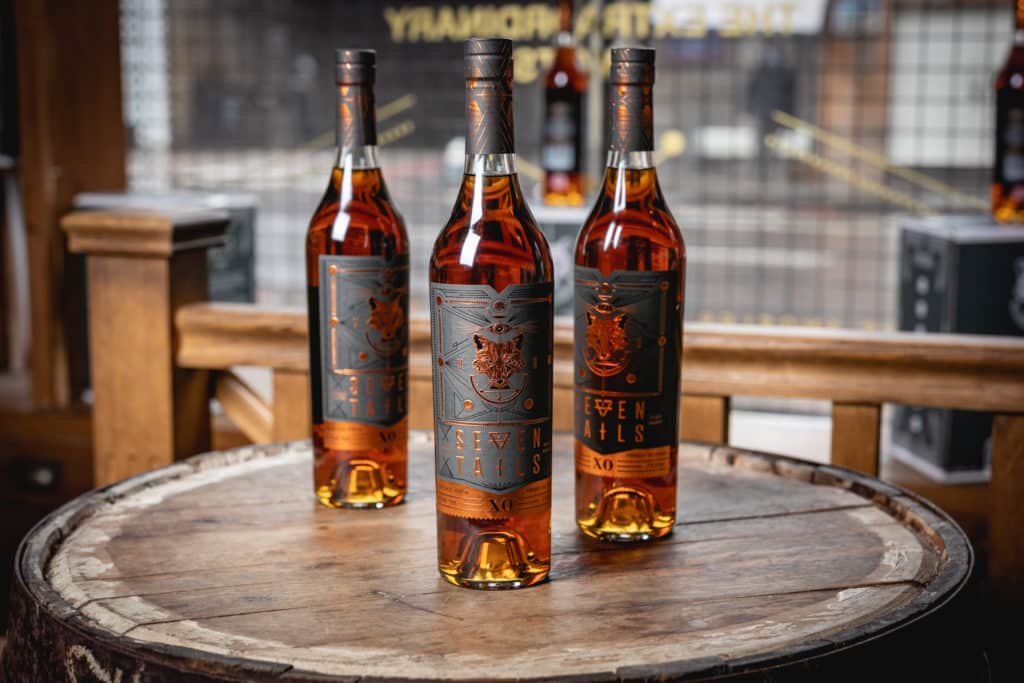 What is Seven Tails XO Brandy?
Seven Tails XO Brandy is a product that exemplifies the art and craft of brandy making. The brandy is produced using a unique blend of seven icons of French brandy, which are artfully blended to create a product that offers a distinct and refined flavour profile. This blend of brandies is carefully crafted with alchemy iconography, which symbolises the seven stages of creation. The brandy is then aged in port casks, allowing it to develop a rich depth of flavour that is characteristic of premium French brandies.
The Making of Seven Tails Brandy
Seven Tails XO brandy is a result of the creative collaboration between industry veteran Arnaud de Trabuc and renowned British bar owner Joel Fraser.
The brand was inspired by the ancient art of alchemy, and the name Seven Tails is a reference to the seven stages of alchemy.
The brandy is crafted by blending cognac, armagnac, and brandies from the southwest of France that range in age from 5 to 30 years. This artful blend creates a product that is greater than the sum of its parts.
The aged, sophisticated brandies add body and structure, while the younger eaux de vie provide a freshness and vibrancy perfect for mixing in cocktails.
The fox depicted on the label of the brandy bottle is a keeper of the elixir in alchemy iconography.
The packaging was designed by White Rabbit Creative and is a departure from the traditional cognac norms, with seven icons surrounding the fox symbolising the seven stages of alchemy, which guide the philosophy and process of Seven Tails.
This sophisticated blend is aged in port casks to impart additional complexity and depth to the flavour profile. The use of port casks in the aging process provides a unique character to the brandy, setting it apart from other brands. The result is a brandy that is smooth and elegant, with a unique flavour that can only be found in Seven Tails XO brandy.

Encompassing Tasting Notes
The Brandy's Beguiling Nose
When you first uncork a bottle of Seven Tails XO Brandy, you'll be greeted by the brandy's beguiling nose. The fresh grape aroma is complemented by racy notes that hint at the unique elixir's complexity.
As you pour it into your glass, you'll notice the rich, amber colour and thick, syrupy consistency.
Swirling the brandy around the glass, you'll see that it leaves long, slow legs that cling to the sides of the glass, indicating its full-bodied nature.
As you take a deeper whiff, you'll detect subtle hints of vanilla cake and toasted pecan or pecan pie, with a slight savoury mushroom broth undertone that adds depth and richness to the aroma.
The palate carries refined flavours that are sure to please even the most discerning palates. The rich berry fruit notes are balanced by hints of dark chocolate and dried figs, while the toasted vanilla and port cask notes provide a smooth finish. The overall flavour profile is complex and encompassing, with a long, lingering finish that leaves you wanting more.
Seven Tails House Cooler
50ml Seven Tails XO
10ml Aperol
20ml Raspberry syrup
20ml Fresh pressed lemon juice
20ml Fresh grapefruit juice
2 dash strawberry bitters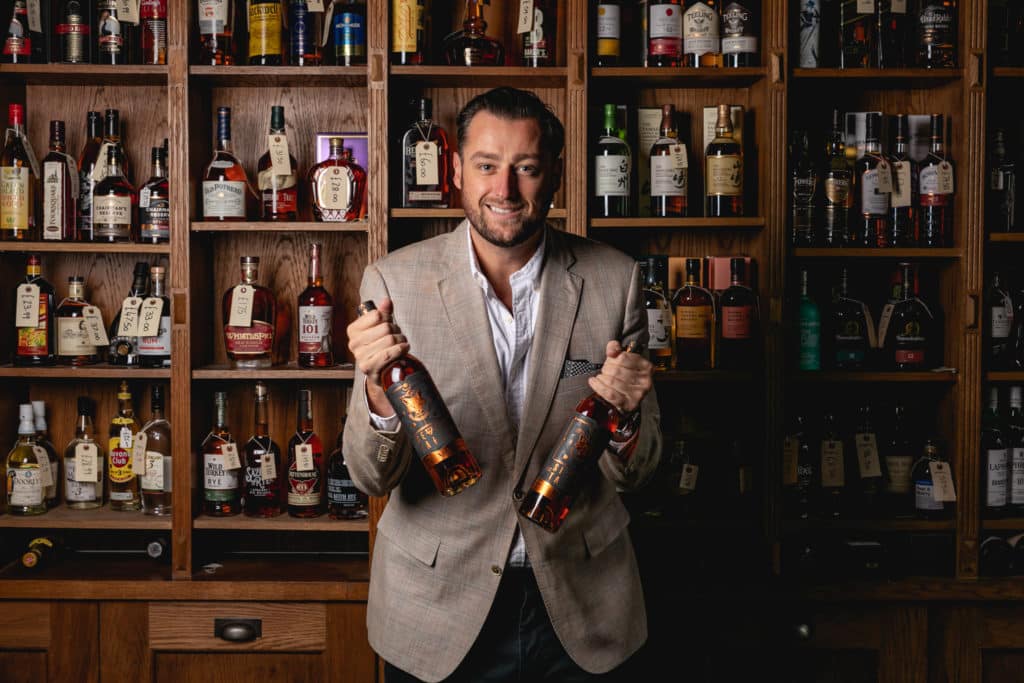 Awards and Accolades
Seven Tails XO Brandy has received several awards and accolades since its introduction to the market. In 2020, the brand won two gold medals at the Bartenders' Brand Awards. The first gold medal was awarded in the Taste category, which is a testament to the brandy's exceptional flavour profile. The second gold medal was awarded in the Design category, highlighting the brand's exceptional packaging and aesthetic appeal.
In 2019, Seven Tails XO Brandy was awarded 93 points at the Ultimate Spirits Challenge, cementing its status as a premium French brandy. The Ultimate Spirits Challenge is a prestigious competition that recognises the best spirits from around the world, and Seven Tails XO Brandy was recognised for its exceptional quality and flavour profile.
These awards and accolades are a testament to the brand's commitment to producing a premium, high-quality product that is sure to impress. From its unique blend of seven icons of French brandy to its artful ageing process in port wine casks, Seven Tails XO Brandy is a standout product in the market. Whether sipping it neat or using it as a base for fun cocktails, Seven Tails XO Brandy is sure to impress even the most discerning of palates.
Conclusion
In conclusion, Seven Tails XO Brandy is a French brandy that's not to be missed. Its refined flavours, unique blend of brandies, and alchemy iconography make it a one-of-a-kind drink that's perfect for sipping or mixing. Whether you're a fan of brandy already or looking to try something new, Seven Tails XO french brandy is definitely worth checking out!