Introduction
In the rugged, picturesque landscapes of the Cambrian Mountains near Aberystwyth, Wales offers tales steeped in myth and legend. Among these captivating narratives, the cunning ruse at Devil's Bridge stands prominent, setting the stage for an extraordinary drink: the Devil's Bridge Spiced Rum.
The Story of Devil's Bridge
High amidst the mountains, the curious Devil found himself navigating the Welsh terrains for the first time. He encountered a woman, distraught and separated from her cow by a formidable river. Sensing an opportunity, he proposed a bridge in exchange for the soul of its first crosser. Yet, the woman, with her Bara Brith bread and faithful dog, outsmarted the Devil, cementing the legacy of Devil's Bridge.
Nestled deep in the heart of Wales, Devil's Bridge isn't just a testament to one woman's wit against the Devil's mischief, but it also stands as a symbol of the region's rich history and unparalleled beauty. For over a century, tourists have flocked to this unique village, lured by the tales of its three-tiered bridge and the cascading Mynach Waterfalls.
This captivating locale serves not only as the backdrop to the tale but also as the inspiration for our Devil's Bridge Rum – a drink infused with the spirit and character of its namesake. Dive into a glass, and let the flavours transport you to this mythical bridge, where every sip tells a story.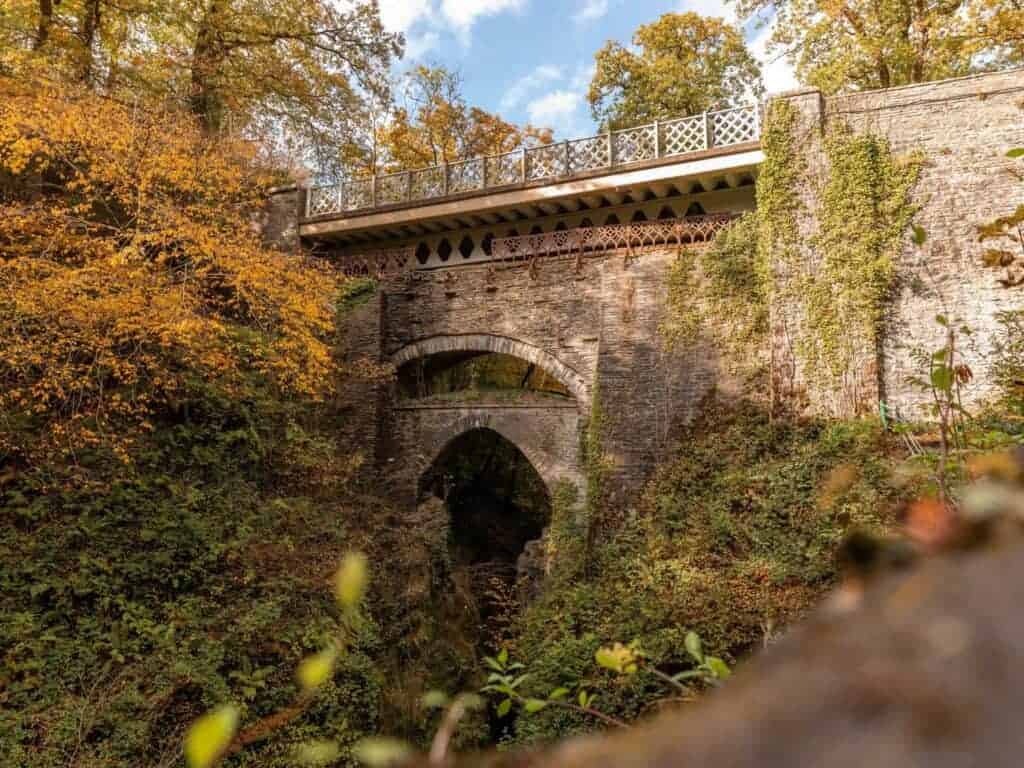 From the Caribbean to Wales: Crafting the Devil's Bridge Rum
Starting its life maturing in bourbon barrels under the warm Caribbean sun, this spiced rum's journey is nothing short of legendary. Transported to Wales, it undergoes a transformation, deeply steeped in a blend of botanicals and spices. This intricate process infuses it with distinct flavours of Bara Brith sweet bread, ginger, vanilla, and cinnamon, among others. The inclusion of Shirgar Carmarthenshire butter adds a velvety smoothness, while Glengettie black tea imparts an unexpected dry finish. This makes the Devil's Bridge Rum not just a beverage, but a testament to craft, tradition, and storytelling.
Savouring the Legend
Devil's Bridge Spiced Rum, deeply rooted in Welsh legend, offers a tasting experience unlike any other. Each sip narrates a story, and depending on how you choose to savour it, the narrative takes different turns. Naturally, Devil's Bridge Spiced Rum is fantastic served neat over ice, or with your favourite mixer (our's is Ginger beer with a lime wedge).
Devil's Bridge Spiced Rum also seamlessly integrates into a range of cocktails, adding depth, character, and a touch of Welsh folklore. Here are some popular spiced rum cocktails to indulge in:
FROZEN BLACKBERRY DAIQUIRI
Pour all the ingredients into a blender with ice, including the blackberries, and mix. Strain the mixture into a chilled glass, before garnishing with 2 or 3 blackberries.
Ingredients:
60ml Devil's Bridge Spiced Rum
30ml Lime Juice
15ml Simple Syrup
Handful of Blackberries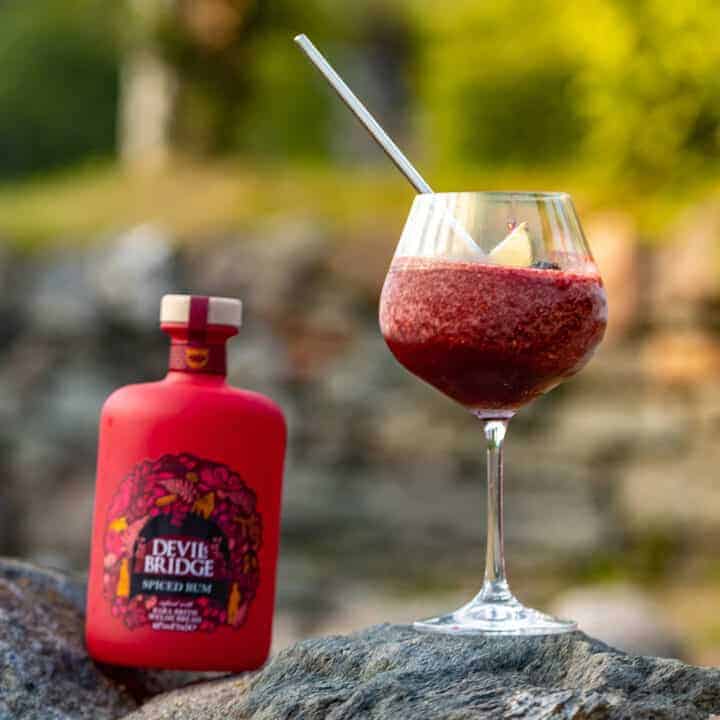 BARRACUDA
Pour all the ingredients except Champagne/Prosecco into a shaker with ice and shake well. Strain the mixture into a glass with ice. Top up the glass with Champagne/Prosecco, then garnish with a mint leaf.
Ingredients:
45ml Devil's Bridge Spiced Rum
60ml Pineapple Juice
15ml Galliano
1ml Lime Juice
45ml Champagne/Prosecco
Mint Leaf For Garnish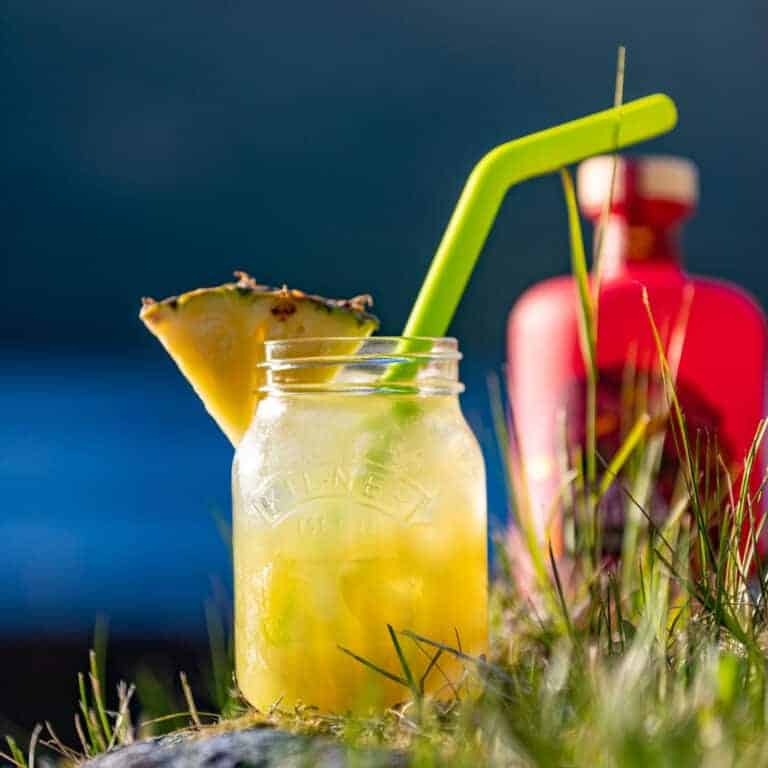 DARK & STORMY
Pour all the ingredients into a glass with ice before stirring gently. Garnish with a lime wedge.
Ingredients:
60ml Devil's Bridge Spiced Rum
120ml Ginger Beer
Lime Wedge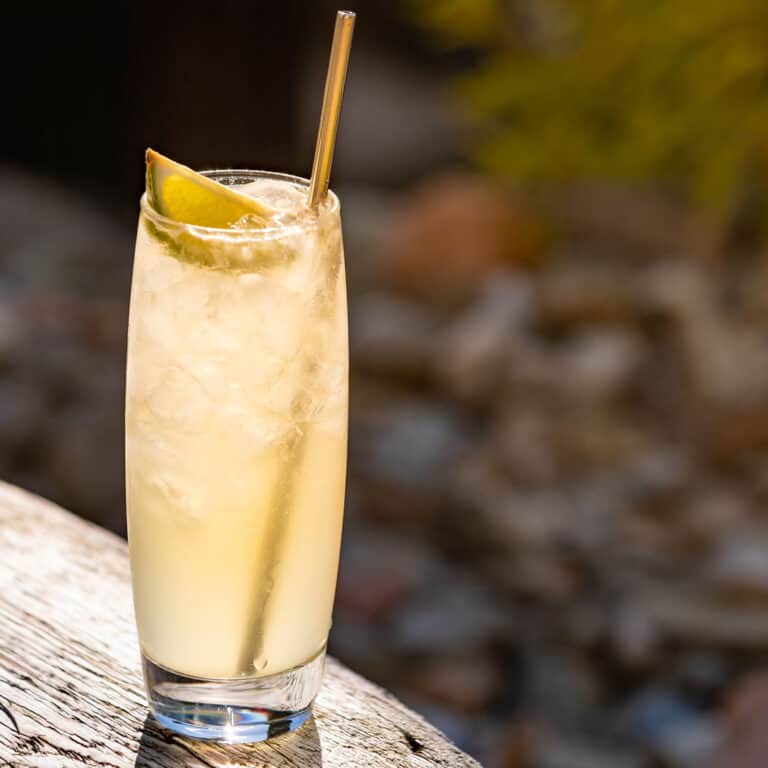 Awards and Accolades: Testament to Excellence
In the world of spirits, the true mark of excellence often comes not just from flavour and story, but also from the recognition by peers and experts. The Devil's Bridge Spiced Rum, a drink deeply embedded in Welsh legend, has rightfully claimed its place among the elites, amassing several prestigious awards in a short span of time.
In 2021 alone, the rum clinched Gold at the renowned World Rum Awards as well as at the London Spirits Competition, affirming its standing in the international spirits scene. To further its accolades, it was crowned the Winner of the Great British Food Awards in the same year. Not resting on its laurels, it went on to seize the title of Winner at the StartUp Awards Wales in 2022.
Such esteemed recognition not only attests to the impeccable quality and unique character of the Devil's Bridge Spiced Rum but also heralds a bright and promising future for the company behind it. With a solid foundation of craftsmanship, tradition, and innovation, coupled with its rich narrative, the brand is poised for even greater heights. The journey of Devil's Bridge Spiced Rum is not just about a spirited beverage but also about a company with vision, passion, and a trajectory that signals a luminous future in the spirits industry.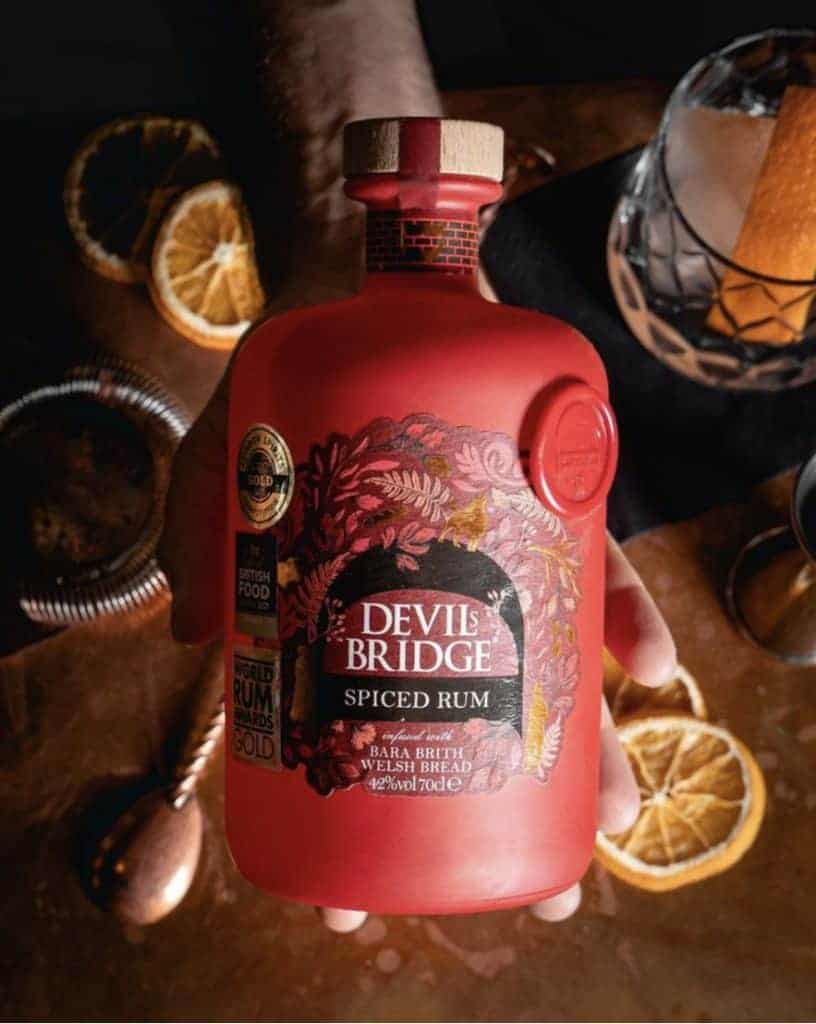 Conclusion
In the tapestry of legends and drinks, few spirits can claim as captivating a backstory as Devil's Bridge Rum. It isn't merely a beverage; it's a story distilled. Its journey from the sun-kissed Caribbean to the heart of Wales, its infusion with legendary Welsh ingredients, and its roots in an age-old tale make it not just a drink but a conversation starter.
But tales, as we know, are best when shared. Have you journeyed with Devil's Bridge Rum yet? Whether you're sipping it neat, blending it in a vibrant cocktail, or sharing it with friends in a toast to cunning plans and legendary bridges, this spirit invites you to be part of its narrative. If it remains uncharted territory for you, let its rich history inspire your next beverage choice. Share your experiences, your concoctions, and let the legend of Devil's Bridge Rum resonate in every spirited conversation.