Born from family tradition, The Lovers Rum has an interesting heritage that only adds to the mystery and elegance of the drink. You can feel the passion that went into crafting this spirit, blending flavours and creating an incredible combination that is truly hard to beat. The base for some of the greatest cocktails out there, it's one to add to your list.
We could not be prouder to be stockists of this high-quality rum, and since we are so selective about the spirits we sell, you know this one is an excellent choice. On behalf of all of us at Crafty Connoisseur, we are proud to introduce you to The Lovers Rum. Before you buy, why not learn more about what makes this rum so spectacular? 
Behind the Name: The Lovers Rum
The name is rooted in heritage and tradition, dating back generations to a time when fortune telling was an occupation taken up by the women of the founder's family (David Corboda). That's where the name comes from, as it takes its inspiration from The Lovers tarot card – one that is deeply rooted in the concept of choice and openness. Even the bottle reflects its own twist on the card.
The Lovers Rum was conceived based on a passion for the spirit, knowing that it's the base for so many of the best cocktails in addition to being delicious when you drink it neat. You can taste an incredible combination of flavours that linger on the tongue, creating the perfect result for those who want a versatile base for their drinks.
Furthermore, there is so much history behind the label. The tarot card printed on the front was designed especially for the rum, and it has a great deal of meaning behind it. It's a maze of layered symbolism, making it quite impressive and also building an exciting history that makes it even more interesting.
While you can find the full details on their website, here's a quick look at what each of the 13 symbols on the label are:
Rosa (the name of the founder's mother)
Snake
Daiquiri
El Tigre
The Name
The Card Number
Flamingo
The Mother of Rum
Pineapple
Hot Air Balloon
Same Strength
Uprise
Downside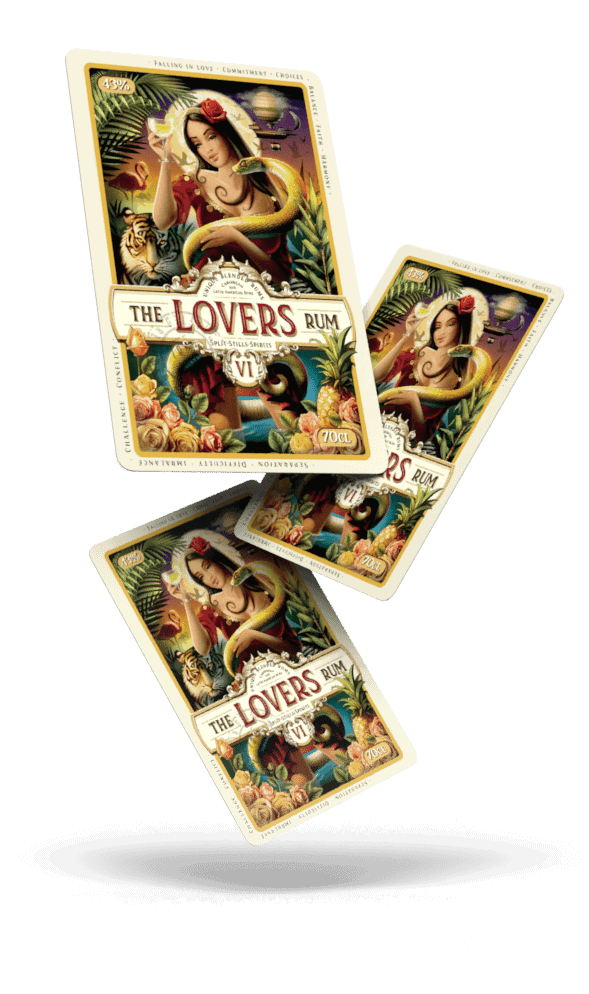 How It's Made
The distillation process for The Lovers Rum is fairly standard, following the tradition of crafting the spirit in oak casks, many of which were once used for bourbon. The thing that makes this spirit so unique is the blend of ingredients. Pineapple and passion fruit are just the beginning – the eclectic combination is one you will never forget.
At its core, it remains a blend of Latin American and Caribbean rums, offering you unique tastes from each area and combining what makes their local variations so delicious. Five variations meet to create a delightful profile that will open your mind and your tastebuds to new and exciting possibilities. Plus, it's sure to liven up your cocktails.
The first flavours find their origin in Barbados, taking classic flavours like banana and tobacco and infusing them in the spirit. The next country is the Dominican Republic, which carries hints of vanilla and toasted coconut. This is followed by Nicaragua and Panama, which bring cola and dark chocolate, respectively. Finally, Guatamala adds all-spice and cacao.
The blend starts by providing you with the aroma of ripened fruit, followed by a refreshing and sweet taste that is balanced by undertones of peppercorn and cinnamon. Heaps of tropical fruit prevent it from becoming overpowering, and the dry finish is gentle on your palate in a way that leaves you wanting more.
Tips for Mixing with The Lovers Rum
In our opinion, nothing beats the delicious and refreshing taste of a classic daiquiri, especially when it's made with The Lover's Rum. However, there are loads of other cocktails that might also tickle your fancy, and we'd absolutely love to take a moment to walk you through our favourites. Read on and grab yourself a glass.
The Lover's Daiquiri
60 ml The Lovers Rum
30 ml Fresh Lime Juice
2 tsps Sugar
Coupette / Champagne Saucer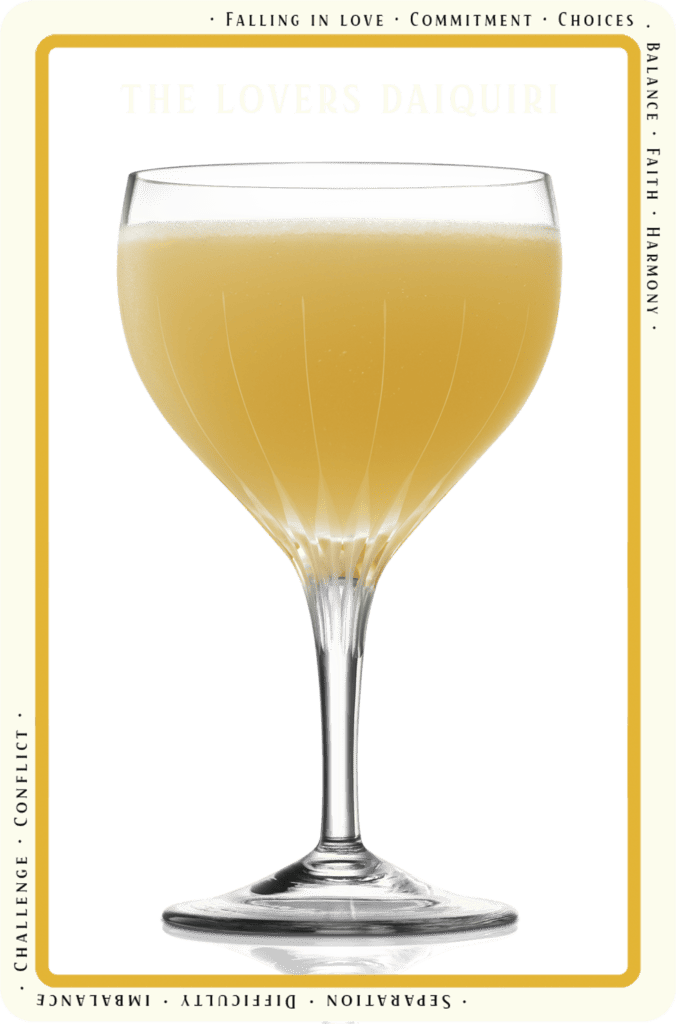 Negroni
30 ml The Lovers Rum
30 ml Vermouth Rosso
30 ml Italian Bitter Liqueur
Orange (for garnish)
Tumbler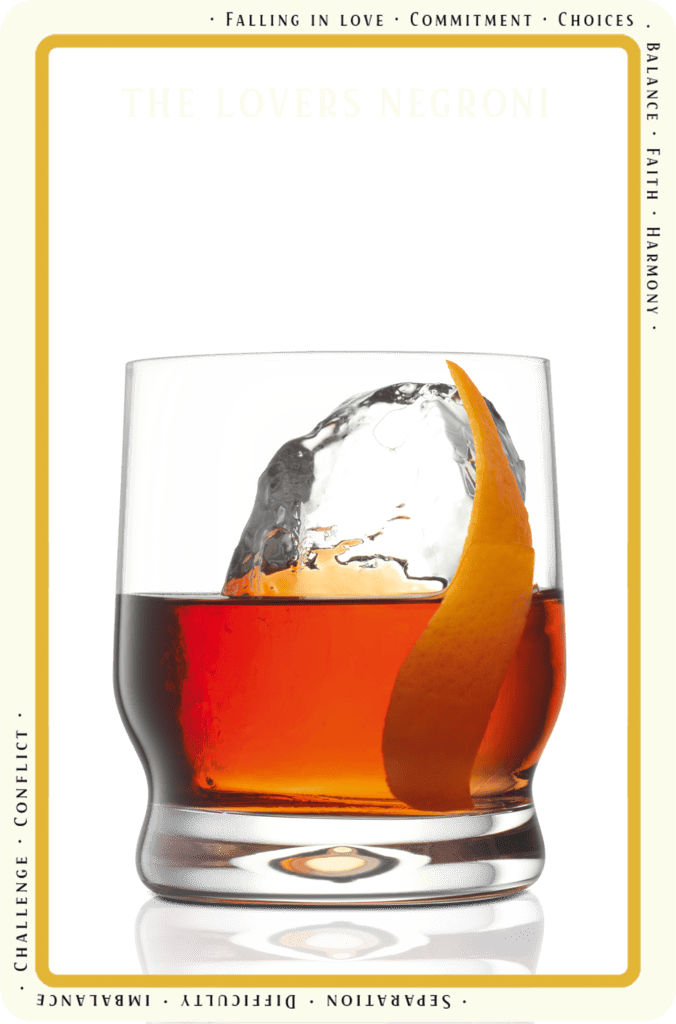 Royal Bermuda
50 ml The Lovers Rum
20 ml Velvet Falernum
15 ml Orange Curaçao
30 ml Fresh Lime Juice
Sugar Syrup (Optional)
Preserved cherry or lime peel (for garnish)
Coupette / Champagne Saucer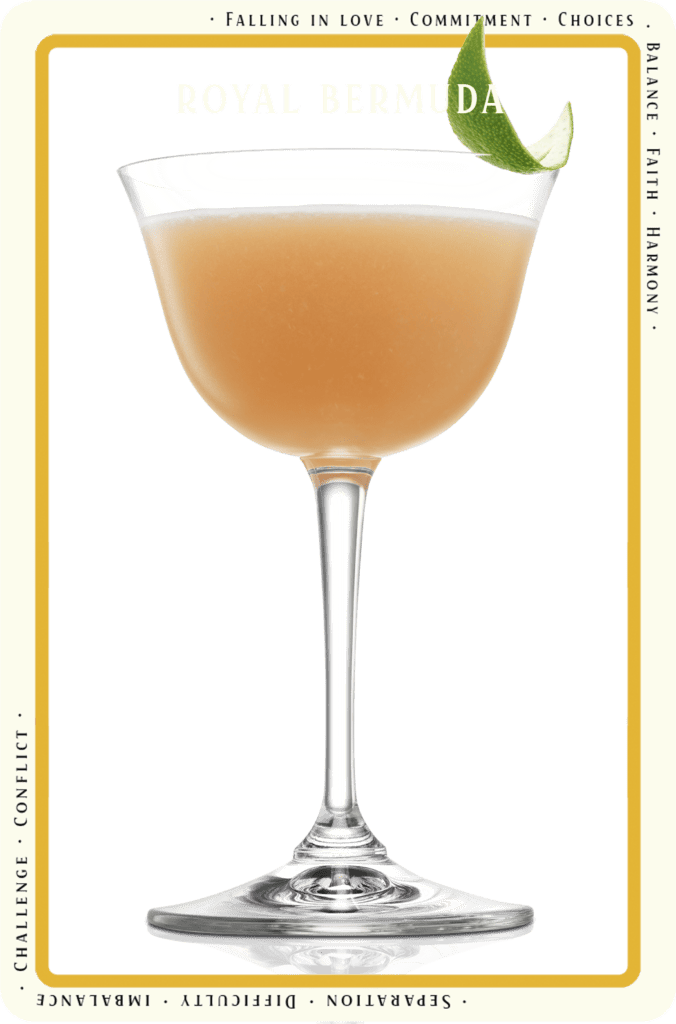 Galante
40 ml The Lovers Rum
20 ml Vermouth Secco
15 ml Cherry Liqueur
5 ml Kirsch
Preserved cherry or lime peel (for garnish)
Coupette / Champagne Saucer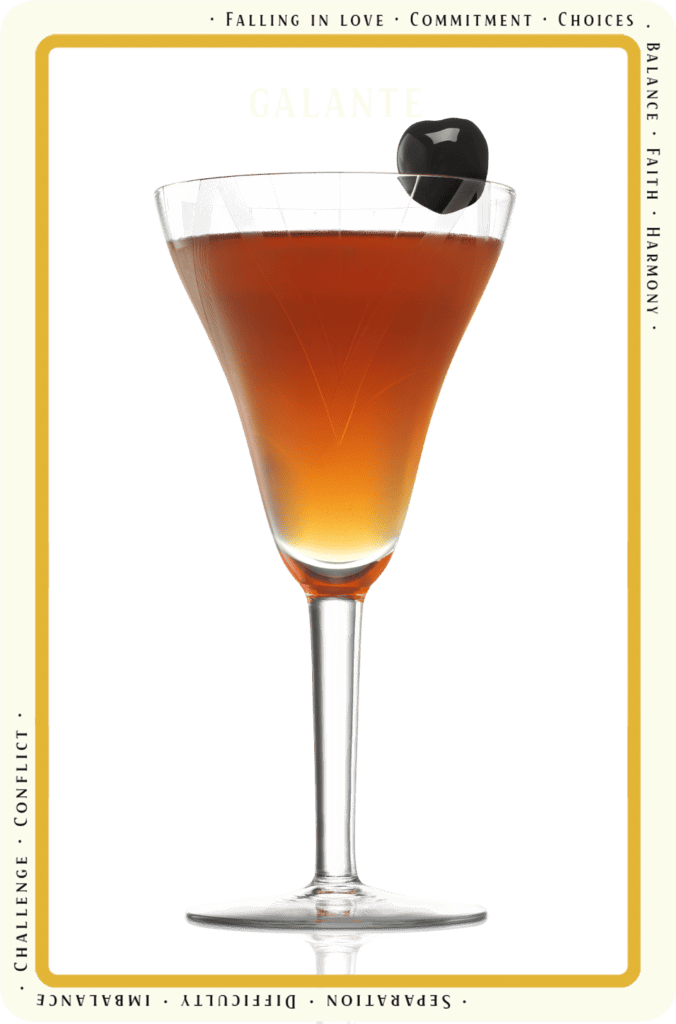 Other Ways to Enjoy The Lovers Rum
You don't have to make a cocktail to get the most out of The Lovers Rum. In fact, it can be quite enjoyable when you drink it neat. There are two main serving suggestions that we have if you want to make the most out of your drink. First, we would recommend that you serve it in a glass that has been chilled. If needed, you can add cold water for an extra bite. 
Additionally, The Lovers on the Rocks is a welcome change of pace if you want to shake things up. All you need is a tumbler and a large piece of ice that has been placed inside it. Pour the rum into the glass, give it a quick stir, and you have the perfect drink for kicking back and unwinding after a long day.
The Future of The Lovers Rum
The Lovers Rum has made it across the world, gracing a wide number of countries with its presence. We're quite excited to watch its increasing progress and popularity as it becomes a more widespread and enjoyed spirit. Despite following a regular ageing process of up to eight years, it retains a strong sense of individuality that simply cannot be matched.
The story behind the drink has an effect on its popularity, but we are confident that it is renowned for its taste. Now served in a number of high-end restaurants across the UK, USA, Europe, and Asia, it remains a fairly exclusive drink with regard to dining establishments.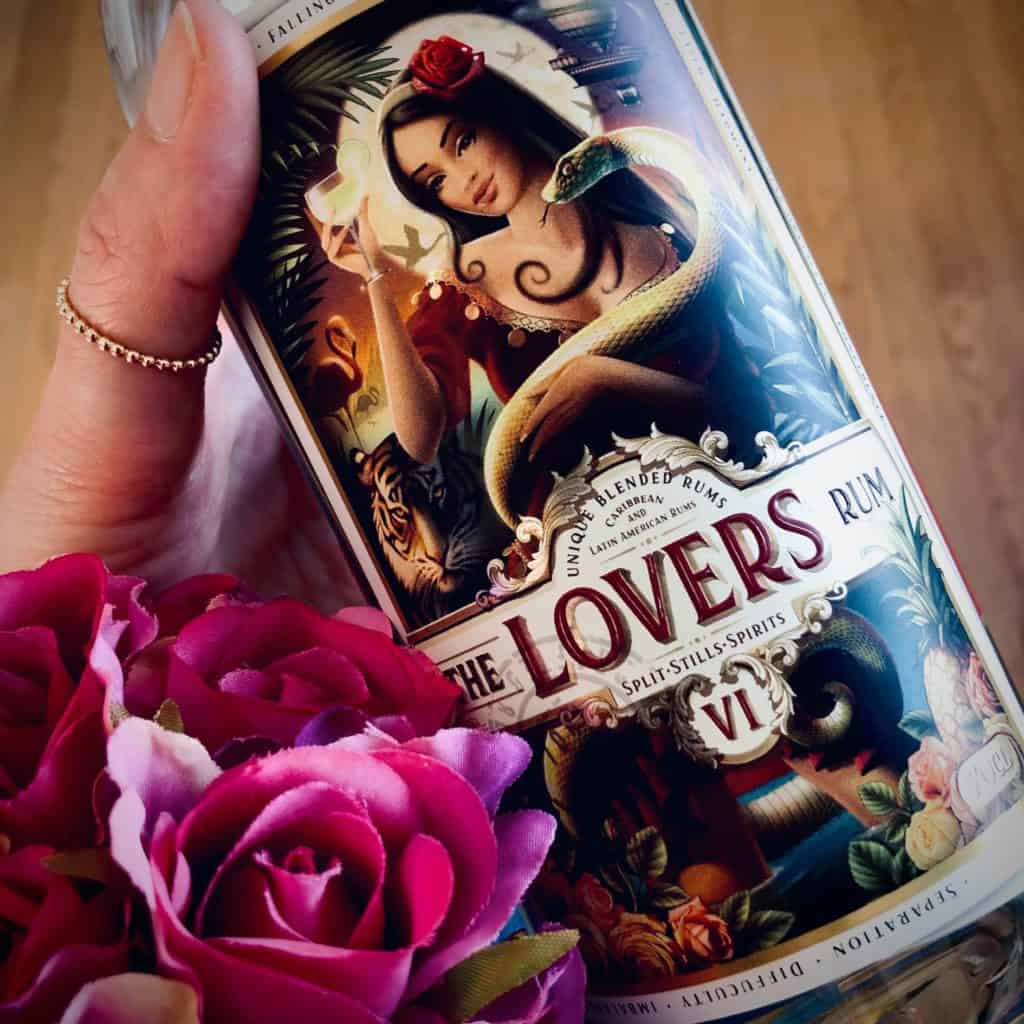 Awards and Accolades
The Lover's Rum has not yet taken home any awards or accolades, but as it is still fairly new and making an impact on the market, this is hardly surprising. We reckon that this time next year, we will see this incredible mixed rum bring home a few gold medals and first-place prizes. Honestly, we'll be shocked if it doesn't.
Final Thoughts
This premium rum is certainly unique, and there isn't another quite like it in the world. The combination of flavours is ambitious, and it pays off with an explosion of flavours that manages to awaken your tastebuds without overwhelming them. It's a rare treat and a success story that we are eager to follow. The entire background is fascinating, and it adds an element of intrigue to this delightful drink that combines citrus and spice.
We have quite a few impressive rums for sale, but The Lovers remains one of our favourites. While you can buy the standard 70cl bottle, we also have a 3cl sample bottle that comes at a lower price, so you can see if you like the drink before you commit to a large one. At Crafty Connoisseur, we pride ourselves on our ability to deliver the finest spirits, and this is definitely one of them.