Summary
Banana Bomb Rum by Rockstar Spirits aims to shake up the rum industry with its distinctive flavour and the brand's commitment to environmental responsibility. Rockstar Spirits plan to expand its reach and accessibility while exploring the possibility of introducing new flavours and product lines and have already topped up its offering by adding Pineapple Grenade and Passionfruit Grenade Rums to the range. The brand is constantly looking for innovative ways to stay ahead in the market. Whether a seasoned rum drinker or a beginner, we invite you to try Banana Bomb Rum in cocktails or straight as a sipping rum. Join us as we explore the exciting future of this exceptional brand with a strong sense of eco-friendliness.
Introduction
A growing trend of flavoured rum has been hitting the market in recent years. From coconut and pineapple to coffee and chocolate, these rums offer a unique twist on the traditional spirit and have proven to be a hit with both seasoned rum drinkers and those new to the spirit.
With the rise in popularity of flavoured rums, it is no surprise that new and innovative flavours are being introduced.
One such flavour recently made its debut is Banana Bomb Rum by Rockstar Spirits.


The Brand Behind Banana Bomb Rum
Rockstar Spirits, a company founded in 2018, has quickly made a name for itself in the world of premium spiced rum.
The brand's mission is to create the best spiced rum on the planet, and they have achieved this by working with global distillers to craft the finest sipping rums and infusing them with unique and magical flavour combinations in the UK.
Rockstar Spirits' rums have been recognised for their exceptional taste and quality, winning multiple awards and receiving recommendations from major TV shows such as Dragons Den, This Morning, Sunday Brunch, Steph's Packed Lunch, and Love Your Weekend.
In 2021, the brand even took home the Triple Gold Medal at the Global Rum Masters.
But it's not just industry experts who are impressed by Rockstar Spirits' rums. In 2019, Holly Willoughby's reaction to the brand's 65% Pineapple Grenade Rum on This Morning went viral, further solidifying Rockstar Spirits' place in the UK rum market.
The Making of Banana Bomb Rum
Rockstar Spirits' Banana Bomb Rum is a flavour bomb of Panamanian rum aged for two years. The rum is made from the finest sugarcane and is distilled using traditional methods to preserve its natural character and flavour. The rum is then aged for two years in oak ex-Bourbon Casks and distilled to Navy Strength 57% ABV.
In addition to the rum, the Banana Bomb Rum is infused with natural ripe banana, warm baking spices of cinnamon and ginger, and Rockstar Spirits' signature salted caramel. The combination of these ingredients creates a unique and delicious flavour profile that sets it apart from other rums on the market.
Rockstar Spirits is committed to sustainability and use eco-friendly practices throughout the production process of Banana Bomb Rum. This includes sourcing ingredients from sustainable and ethical suppliers, reducing waste through recycling and composting, and using renewable energy sources in the distillation process.

Mixing with Banana Bomb Rum
According to Rockstar Spirits, Their Banana Bomb Rum is excellent with Cola, Lemonade or Ginger and makes a killer Banana Daiquiri. Here are a few of Crafty's favourite ways to enjoy this one:
Banana Bomb Daiquiri: Mix 2 oz Banana Bomb Rum, 1 oz fresh lime juice, and 1/2 oz simple syrup in a shaker with ice. Shake well and strain into a glass.
Banana Bomb Colada: Blend 2 oz Banana Bomb Rum, 1/2 a ripe banana, 1 oz coconut cream, and 1/2 oz pineapple juice. Serve in a glass and garnish with a pineapple wedge.
Banana Bomb Mule: Mix 2 oz Banana Bomb Rum, 1 oz ginger beer, and 1/2 oz lime juice in a glass with ice. Stir and garnish with a lime wheel.
Banana Bomb Old Fashioned: Mix 2 oz Banana Bomb Rum, 1/4 oz simple syrup, and two dashes of Angostura bitters in a glass with ice. Stir and garnish with an orange peel.
Enjoy it with Food
Banana Bomb Rum pairs well with spicy food, such as jerk chicken or Jamaican-style curry. The sweetness of the rum helps balance out the spices' heat.
The banana flavour in Banana Bomb Rum makes it a great pairing with dessert, such as banana bread or banana cream pie.
The rum's sweetness also makes it a great pairing with rich, savoury dishes, such as macaroni and cheese or grilled cheese sandwiches.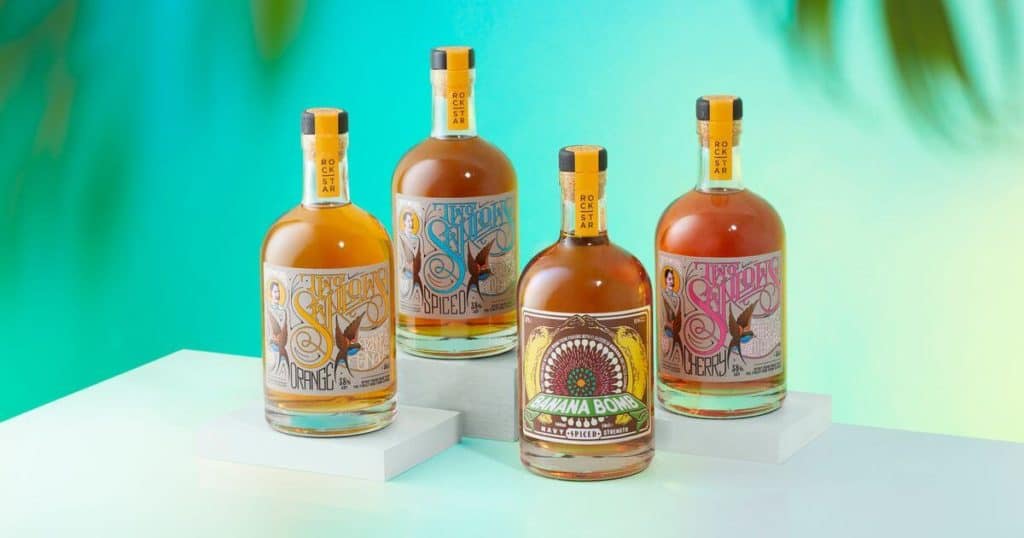 Tips for hosting a Banana Bomb Rum tasting party
At Crafty Connoisseur, we offer bespoke tasting events with expert guidance. We let you sample a range of spirits, which can include Banana Bomb Rum upon request. So embark on a flavorful journey through rum, gin, vodka, tequila, and more.
Here are five top tips for a great night if you want to host your own tasting party.

Set up a self-serve cocktail station where guests can make their own drinks using Banana Bomb Rum and different mixers. Provide recipe cards and ingredient lists for guests to follow.
Offer various food options that pair well with Banana Bomb Rum, such as spicy, sweet, and savoury dishes.
Provide guests with various glassware options, such as tumblers, highballs, and hurricane glasses, to experience the rum differently.
Create a fun, relaxed atmosphere with tropical-themed decorations and music to enhance the overall experience.
Have a designated driver or offer alternative transportation options to ensure guests enjoy the party safely.
The Future of Banana Bomb Rum
Banana Bomb Rum is a product that is poised for growth in the future. The company plans to expand their distribution and availability, making it easier for consumers to access their unique rum flavours. Additionally, there is potential for new flavours or product lines, allowing the brand to continue appealing to a broader audience. The brand is committed to innovation and standing out in the market. They continuously work on new ideas to ensure their product stays relevant and exciting for their customers. Whether through new flavours or product lines, Rockstar Spirits is always looking to stay ahead of the curve and offer its customers something new and exciting.

Conclusion
In conclusion, Banana Bomb Rum stands out for its unique qualities, bold flavour and smooth finish. We encourage readers to try it in cocktails or as a sipping rum to experience the full range of tastes. Furthermore, we also want to remind our readers of the brand's commitment to sustainability and the importance of supporting companies prioritising the environment. By choosing Banana Bomb Rum, you enjoy a delicious rum and keep a brand working to impact the world positively. So go ahead and give Banana Bomb Rum a try and join us in supporting this fantastic brand.